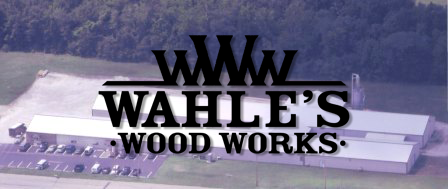 Who We Are:
Wahle's Wood Works and Mouldings is a family owned millwork company located in Union, Missouri. We manufacture doors, windows, lineal trim, stair treads, handrail, beams, columns, hardwood flooring, cased openings, mantles, etc. With over 3,4oo profiles we offer many trim options, but we can match any profile in almost any wood species to meet the customer's needs. We pride ourselves on the best quality materials, flexibility, and friendly service.
Our Story:
Wahle's Wood Works and Moulding is a family owned company that was started in 1980 by Ken and Janet Wahle.  Ken had always loved working with wood and his dream became a reality when they began a small woodworking company that specialized in church appointments, carvings, renovating existing church objects and custom furniture.
Just a few short years later the company continued to grow. Ron Eckelkamp and Rick Wahle (Ken and Janet's son) joined the company to create a 3-way partnership.  With the help of Rick and Ron, we were able to add round windows, radiused millwork and doors to our list of specialties. It didn't take long for the 4,000 sf building in Wright City to begin to feel small.  In 1990, we built what is now a 50,000 sf facility in Union, Missouri. This allowed us to begin production of architectural millwork, along with custom interior and exterior doors, custom built-ins, columns, beams, mantles and much more.  Just remember, if it's wood, ask us!
Although Ken, Janet and Ron have retired, the friendly family service is still here. Rick continues to run the business with the help of our many very dedicated long-time employees.  Continuing in the family footsteps, Patrick, Kim and Sarah are now part of the company. Patrick (Ron's son) is our door specialist and has been with us for over 20 years. After Ron retired, Patrick took over the door area and is now in charge of door production.  Sarah (Rick's daughter) is one of our project managers and comes to us with an architecture and interior design background. We are excited to expand our design services. Kim (Ron's daughter) now wears many hats but most importantly she is our Accountant and HR. She has been with us for over 15 years and continues to bring experience and expertise to the our company.
We pride ourselves on the best quality materials, flexibility, and friendly service.
Why Choose us?
Our experienced team will work with you, your designer, architect and builder throughout the entire project to ensure that all of your goals are met!